Amateur body builders, reality TV hunks and boy band members helped break the internet this year when their nude selfies somehow found their way online and into all of our collective memories.
To help recap the dozens of leaked photos this year, we have put together our top 6 favorite male nude selfies of 2014 with a link to their original article. Enjoy!
#6 – Big Brother Contestant Kenny Brain
The bearded openly-gay Big Brother Canada contestant, Kenny Brain, went viral in April when nude photos leaked of his rather impressive endowment. Read the full article here.
#5 – 5 Seconds of Summer Band Member Calum Hood
5 Seconds of Summer band member Calum Hood made no effort in denying that he is in fact the person behind a leaked snapchat showing his fully erect penis that began circulating in late August. The explicit video showed an unidentifiable man taking a mirror selfie while dropping his underwear to expose his obvious boner. Hood responded to fans Thursday night on twitter saying, "Least ya know what it looks like now." Read the full article here.
#4 – Former Marine & Bravo's 'Below Deck' Star Kelley Johnson
Ex-Marine Kelley Johnson and star of Bravo's reality series Below Deck, made sparks fly online after photos of his impressive "Johnson" made its way online in October. Read the full article here.
#3 – Marine Turned Underwear Model Alex Minsky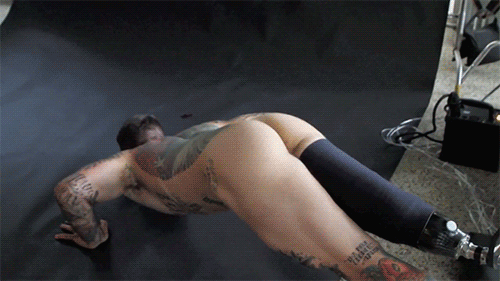 25-year-old U.S. Marine and world renowned amputee underwear model, Alex Minsky, leaked some naughty x-rated photos in February. Read the full article here.
#2 – Ellen's Gardener
A nude photo-set allegedly showing Billy Reiliech, Ellen's hunky gardener, set Tumblr on fire in October. Read the full article here.
#1 – Bodybuilder Michael Hoffman
Amateur bodybuilder Michael Hoffman leaked several wickedly hot x-rated videos back in September, one of which featured the muscled hunk stroking himself to completion and then enjoying his own goods. Read more here.
[contextly_sidebar id="moXcpgl9vRl3V1r2jVvJslA657FNlZis"]
Days after the leak, Hoffman spoke out to set the record 'straight' about his sexuality and explained why he recorded the videos in the first place. Watch his video here.
[h/t:
ConfessionOfABoyToy
] [contextly_sidebar id="qgryKS746SZIlTgj6BOctfsE0e0ohm12″]